UPDATE *** UPDATE *** UPDATE ***
The owners of Catwa have now made it possible for Stargazer Body Shine appliers to work on their heads!  Yippee!
*********************************************
Oh I know, I know, it's been a while since I've posted anything.  Life gets busy, but even then you have to stop and take a look when something fabulous is released in SL!  I had to blog about this… I'm so much in love and I'm sure you will be too!
The Liaison Collaborative event starts today and I am so very happy to tell you all about the release from my wonderful sponsor, Stargazer Creations!  Here is me doing a little happy dance – can you guess why?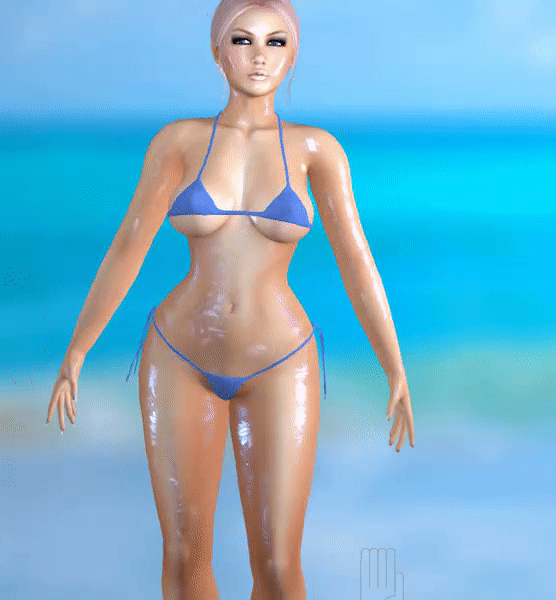 Yes, folks, that awesome body shine is now available from Stargazer Creations for only L$190 each design.  I am modeling it here on the Altamura Clodet body/head.  It works perfectly, and looks amazing!  I am modelling the Blue Lotus version.  At The Liaison Collaborative there are three available Holo, Blue & Stargazer.  Stargazer is a gift version for you to try.  Don't forget that you need to have Advanced Lighting enabled in order to see the effects.
Now for the important bit.  These appliers are awesome, but they need the body/head that you have to be up-to-date with Omega Evolved – not just Omega.  Certain bodies and heads are just not compatible with Omega Evolved appliers yet.  For instance, Stargazer kindly have included a limited functionality HUD for Maitreya – but you won't get any of the special effects as it only shows up as white on the body.  Stargazer Creations want everyone to enjoy this but equally don't want people to be disappointed.  So go and try the free version, PLUS read the following – this is the wording from the enclosed notecard about functionality:
Before you purchase the body shine materials be sure you read this in detail.

Please also test the free Gift version provided for this. This version will differ from other versions in the pattern you see but the principle for all shine materials is the same and will give a better idea on how they look on the body you are wearing them with.

We have tested the materials and on our displays we use Belleza Freya and Genus Babyface.

The materials work best with meshes that support Omega Involved. With this some popular meshes are either unsupported or only limited in their compatibility.

You can check here for more detailed information: https://slpoweredbyomega.com/supported-meshes/

IMPORTANT NOTES

★ Only fully compatible with Omega Evolved supported meshes. Not all Omega friendly meshes support materials!

★ Limited support for Maitreya Lara Mesh Body at this time: Materials will only show in white and gloss has to be set manually via the mesh body hud included with your body. We recommend the use of the tattoo layer to apply.

★ Currently NO Catwa Support. There is no applier for this available and Catwa is not yet updated to Omega Evolved.

★ Legacy Mesh Body currently only on request. This will be added as a separate purchase over time, due to the different system the Legacy body uses. Send a Notecard to make a request. See my picks on how to contact me and how to write your notecard (Mostly so I can find you and assist you faster and more efficiently!)

★ You must enable the Advanced Lighting model of your updated Viewer to see the effect. Make sure this is possible by using our free gift version first!

★ You must wear body lights for the effect to show. You can use any of the ones we have included or projectors or lights that you already own. The effect will vary greatly depending on the lights you use, giving you more options for a unique look. Using your windlight settings will improve the look.

★ To add more features and full compatibility we recommend you contact the maker of your mesh body and head and kindly ask for these features to be added or updated. The more demand there is the more likely it may actually happen.
Our personal wishlist:

★ Legacy Omega Evolved compatibility.

★ Maitreya update to Omega Evolved Materials System.

★ Catwa update to Omega Evolved Materials System. (NOW WORKS ON CATWA – SEE UPDATE AT TOP OF BLOG)
I totally love this and shall be wearing it at every opportunity.  It also has me looking to wear my Altamura body more as I get the full and very beautiful effects when wearing it as opposed to the Maitreya body.  So before I go – enjoy some more pictures and don't forget to check out the style guide below which has all the details and SLurls that you might need!
Style Guide:
Bodyshine: Stargazer Creations Body Shine Materials – Blue Lotus – Available at The Liaison Collaborative event
Eyes: Stargazer Creations Hayate Omega Eye Appliers
Sunglasses: MOEKO Cutiecorn Sunglasses Aqua – Available at Summer Fun event
Hair: Opale Miranda Hair
Bikini: &ML& micro-bikini-Altamura flower5
Feet adornment: Mosquito's Way – Malika *Group Gift*
Body/head: Altamura Clodet
Skin: 7 Deadly Skins Aqua freckled – Cotton Candy